Blast Resistant Steel Door
Blast Resistant Steel Doors
SPR blast resistant door as sure blast protection and dependable service under critical conditions for interior or exterior environments including
• Chemical, paint or hazardous material storage rooms
• Pharmaceutical facilities, college laboratories and other R & D areas
• Bioscience and nanotechnology research buildings
• Refineries, petrochemical and other industrial complexes
• Nuclear power stations
• Engine test cells
• Ammunition depots, munitions storage facilities and arsenals
• And, numerous other applications
To certify the swing door system, the blast door manufacturer must supply all components including the frame, hinges, door panel and latching hardware. ALL of SPR swing blast doors contain these essential items. Sliding doors are also furnished with the necessary equipment --- track and trolleys, hanging brackets, door panel and blast restraints.
SPR Blast resistant products have been analyzed and door tested by an independent, nationally recognized engineering laboratory to meet the blast conditions for which they are certified. Most of the analyses are validated by actual shock tube or static pressure testing, and are either used to extend the physical sizes of door / frame assemblies or to extend the peak blast pressure and door impulse that the designs will resist.
SPR Offers the Architectural and Engineering communities a wide range of blast resistant products to withstand a variety of projected blast conditions and installations. Our door assembly model designations for a standard.
CLASS 1 Low-range door
: A Door Designed – to withstand and equivalent static pressure that is less than 3 psi ( 21 kPa )
CLASS 2 Mid-range door
: A Door Designed – to withstand and equivalent static pressure in the range of 3 psi to 25 psi ( 21 kPa to 172 kPa )
CLASS 3 High-range door
: A Door Designed – to withstand and equivalent static pressure that exceed 25 psi ( 172 kPa )
---
STANDARD OPENING WIDTH
(W) 1000 x (H) 2100 mm. (SINGLE DOOR)
(W) 1800 x (H) 2100 mm. (DOUBLE DOORS)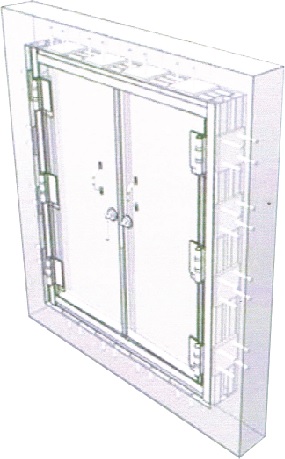 MAXIMUM OPENING WIDTH
(W) 1500 x (H) 3000 mm. (SINGLE DOOR)
(W) 3000 x (H) 3000 mm. (DOUBLE DOORS)
---